Low Carb Cloud Eggs

What a nice way to serve your eggs for a change. This Low Carb Cloud Egg recipe is quick, easy and delish. Speaking of delish, I found this recipe on Delish.com. Sometimes I think it is important to try other recipes on line and share with you my thoughts. ( Does it taste good, do I dislike) We all have different taste buds and like certain recipes and dislike others. There have been many out there that I dislike and I try and share the recipes that I will make again and again.
The fun part is you can make plenty of the eggs all at once, using a large baking sheet. Serving up a large number of guest at once.
Great flavor and I recommend you try these! I did change up the recipe a bit by adding my favorite bacon crumble, but you can use sausage, regular bacon or even different slices of cold cuts.
Anyway, lets get started and I will show you how to make it!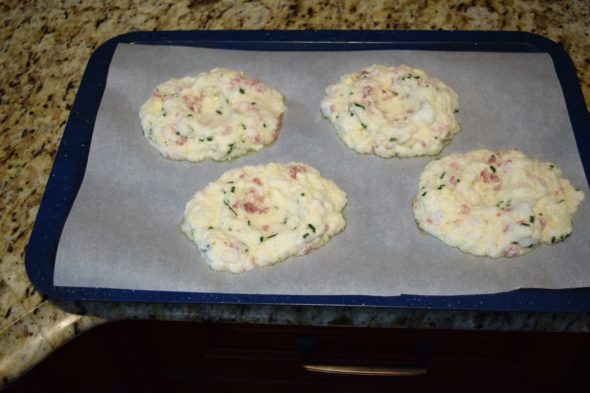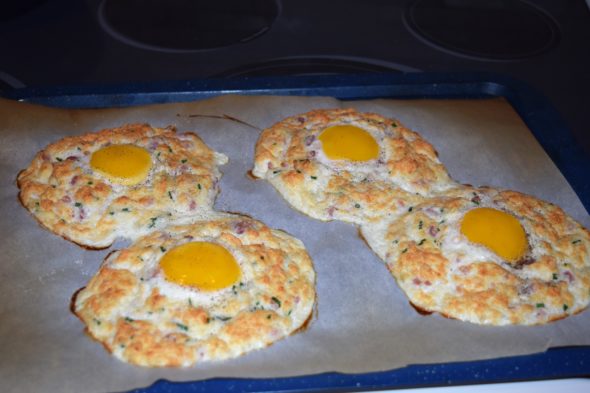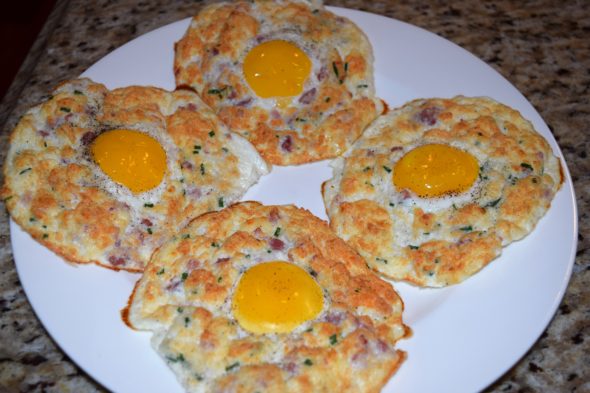 4 large eggs
salt
Freshly ground black pepper
1/2 cup. freshly grated Parmesan
1/4 bacon crumble
3 tbsp. finely chopped fresh chives
Preheat oven 450
Separate your egg whites from your egg yolks.I recommend placing each egg yolk in individual small dishes (it makes it easier to add the yolk to the baked egg white)
Set the yolks aside
Add salt and pepper to your egg whites and beat until stiff
Fold in cheese, bacon and chives to stiffened egg whites
Add parchment paper to you baking sheet and make 4 mounds of egg whites on the pan.
Try to make a dent in the center of the whites (this is to place the egg yolk in, but not yet)  I found that after I baked the whites I had to make my indent then.
Place egg whites on center rack for 3 minutes, remove from oven and add the yolk in the center of each egg white.
Place back in oven for 3 to 4 minutes, you will find the egg white starts to get golden and the yolk is set.
Remove and serve.
Servings: 4
Yield: 1.4 net carb
Stay healthy and live well!
Gayle