Low Carb East Indian Curried Chicken with Capers

I have not done many East Indian recipes but I thought I would try this Low Carb East Indian Curried Chicken with Capers to see if it would wake up my taste buds. The weather is been a bit pewy and I thought maybe I would use my crock pot to cook this dish.
Normally this dish would be served over rice but I want to keep it low in carbs so mixed greens or mashed cauliflower is delicious with it.
You will see in my video that I had a little helper this week. I am so lucky that I get to see my beautiful granddaughter Mya at least once a week, she is such a joy and I hope you got a kick out of her in the video. (she makes me smile)
Well lets get started and I will show you how to make this dish!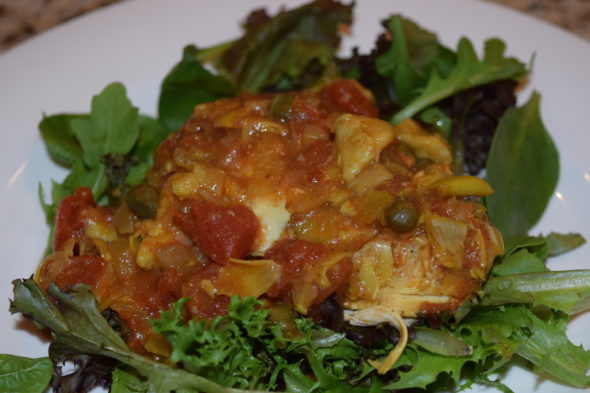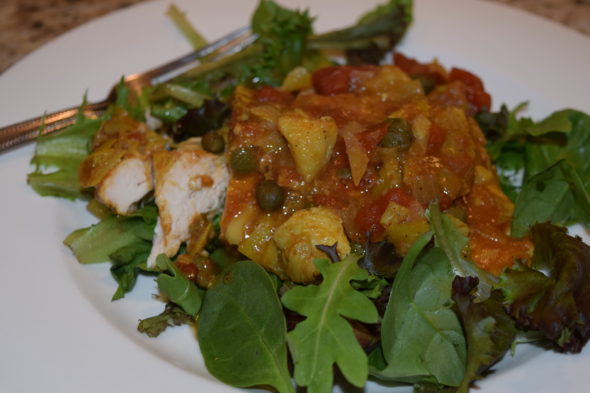 2 cups chopped tomatoes ( I used canned tomatoes and drained them)
1 cup artichoke hearts drained
1 cup chicken broth
1/4 cup red onion
1/3 cup white wine ( I used Chardonnay)
1/4 cup capers drained
2 teaspoons curry powder
1/2 teaspoon thyme
1/4 teaspoon salt and pepper
1 heaping teaspoon thick-it-up (by Dixie Carb Counters)
1 1/2 lbs chicken breasts
Mixed salad
In a bowl mix all of the ingredients
Pour half of the mixture in the bottom of the crock pot, add the chicken breasts then
pour the rest of the ingredients on top.
Cover and turn on HIGH for approximately 3 hours.
Serve on top of mixed greens or even mashed cauliflower.
Servings: 4
Yield: 5.1

Stay healthy and live well!
Gayle