Low Carb Jerk Ribs

Ribs were on sale this week so I thought it was time to make Low Carb Jerk Ribs. Some times I like a little kick to my
food so I thought this recipe will do the trick. Mind you my husband does not like to much spice so I cut back on the
jerk spice, but I hope you will smoother the ribs with it and have that glass of wine or water to cool you off.
The BBQ Sauce is a little bit of surprise by having a great orange flavor which I find a great combination with the jerk spice.
So lets get started and I will show you how to make it!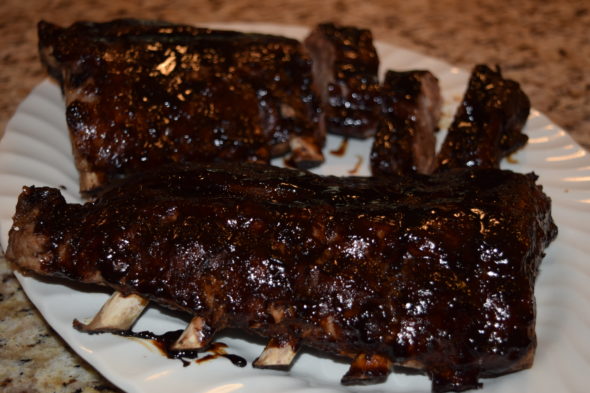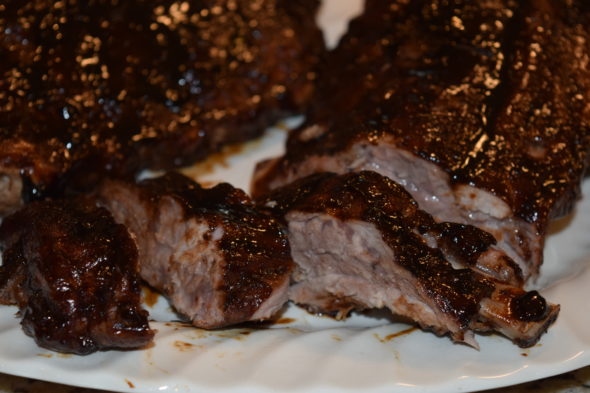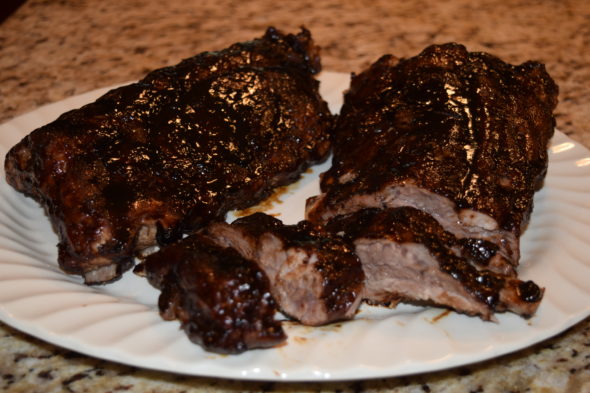 1 full rack of Pork Back Ribs
Jerk Spice ( you can buy it already made but it has sugar in it or you can make your own)
Homemade Jerk Spice Recipe

1 1⁄2 teaspoons ground allspice
1 1⁄2 teaspoons dried thyme
1 teaspoon curry powder
1 1⁄2 teaspoons paprika
1 teaspoon erythritol
1⁄2 teaspoon salt
3⁄4 teaspoon black pepper
1 1⁄2 teaspoons cayenne pepper
1⁄4 teaspoon grated nutmeg
1⁄4 teaspoon ground cinnamon
1⁄8 teaspoon ground cloves
BBQ Sauce

1/4 cup tamari (soya sauce)
1/4 cup water
1/2 teaspoon ginger powder
3 teaspoon orange extract or 2 tablespoons orange rind
1/4 cup orange juice
2 tablespoons rice vinegar
1/4 cup white vinegar
2 tablespoons Worcestershire sauce
3 tablespoons erythritol or other sweetener
1 tablespoon Dijon mustard
3/4 teaspoon gaur gum
First take your ribs and rub all over with Jerk Spice. (The more rub the more spicy)
Wrap the ribs in tin foil, place on cooking sheet, Bake for 3 hours at 325F
BBQ Sauce

In a sauce pan add all the BBQ Sauce ingredients, heat on high, bring to a boil, turn down on medium low and cook until thickened. (approx 35 minutes)
Remove the ribs from the oven, unwrap, place on parchment paper, baste with BBQ Sauce.
Return to oven and bake for another 20 minutes.
Remove from oven and serve!
Servings: 4
Yield: 8.1 net carbs

Stay healthy and live well!
Gayle