Low Carb Quesadilla Burgers

This is a Quesadilla with a twist, lets make it a Low Carb Quesadilla Burger. If you smother it with all that cheese and all the extras, salsa, lettuce, onion, you name it, it will have a fantastic flavor. Then to top it off with my Low Carb Wraps, it is all perfect.
When you are getting ready to mix the ground beef ,I like wearing rubber gloves , so if you have some, put them on and save the grease on your fingers and if the meat comes out of the fridge it will save that coldness.
Well lets get started an I will show you how to make it.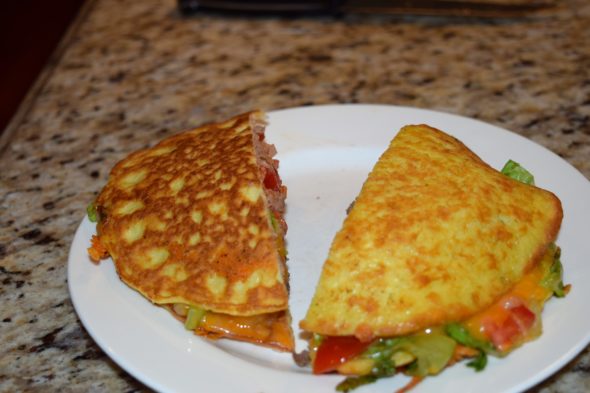 1 lb lean ground beef
1/4 chopped white onion
1/2 teaspoon garlic salt
1/2 teaspoon chili powder
1/4 teaspoon salt
1/4 teaspoon pepper
1/4 teaspoon crushed red peppers
shredded cheese
chopped tomatoes or salsa
chopped lettuce
chopped onions
Low carb wraps ( find at this link: http://www.lowcarbrecipeideas.com/low-carb-wraps/)
Optional: sour cream
In a mixing bowl mix ground beef, onion, garlic salt, chili powder, salt, pepper and crushed red peppers.
Make thin meat patties and fry in the frying pan or BBQ.
Clean out the skillet and place a low carb wrap in the heated pan add shredded cheese, add cooked patties, chopped onion,tomato or salsa, lettuce and shredded cheese.
Place a low carb wrap on top, when the cheese is melted on the bottom with a lifter turn the full wrap over.
When all the cheese is melted, remove the burger and serve.
Servings: 4
Yield: 2.3 for burger and condiments, 1 net carb per wrap
4 net carbs per serving

Stay healthy and live well!
Gayle