Low Carb Sun-dried Tomato, Spinach Stuffed Chicken

This Low Carb Sun-dried Tomato, Spinach Stuffed Chicken is a must to try and so easy to prepare. I did find this recipe at recipetineats.com and she found it at yammiesnoshery.com. I did change the recipe up a bit but I must give credit to the two sites.
I want to take a minute and talk about chicken. I usually buy my chicken from Costco, now you might find it strange but I buy there frozen seasoned chicken breasts. I find the frozen ones have such an amazing flavor and I can take it out of the freezer and thaw it out and make many delicious recipes with them. I know the box does not recommend to thaw out the chicken but I have not had any problems thawing them out and love the final results every time.
Many times I have bought fresh chicken breasts and I find the flavor just so bland. So for now I will stick with the frozen breasts.
Another thing I want to talk to you about is sun dried tomatoes. I love the sun dried tomato pesto, it has amazing flavor and it is already to spread on your food instead of having to chop up the dried tomatoes and I also find the pesto is so much more flavorful.
Now back to my Sun-dried Tomato, Spinach Stuffed Chicken, this meal is one that you will make over and over again. My kids were home for the week end and I am always experimenting on them and they just keep coming back for more.
In fact served this recipe and Saturday night I made my famous prime rib, in the near future I will share this with you.
Anyway lets get started and I will show you how to make this recipe.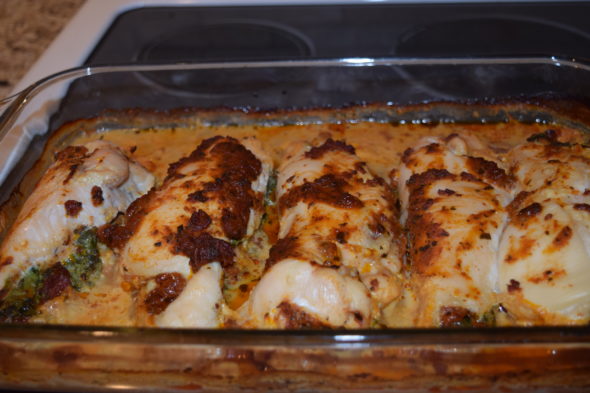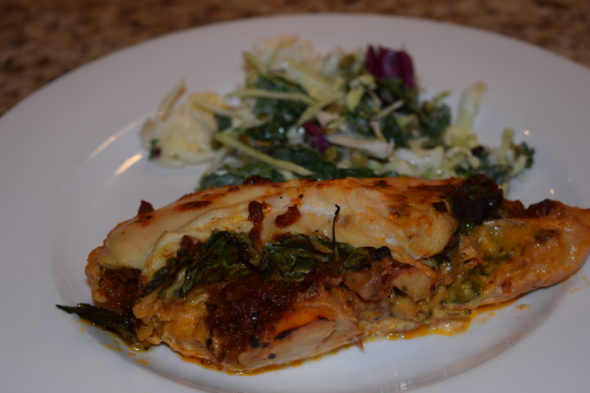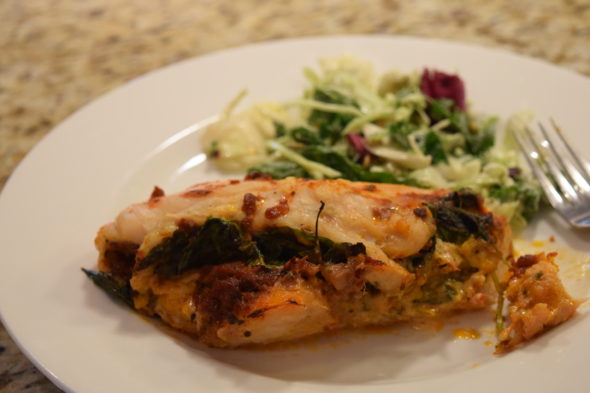 5 chicken breast
218 ml sun dried tomato pesto
4 slices mozzarella cheese
120 grams spinach
2 teaspoon olive oil
Dressing
1 tablespoon Dijon mustard
1 tablespoon lemon juice
1/2 teaspoon erythritol
1/2 teaspoon Italian mixed herbs and red pepper flakes
salt and pepper
Place your chicken breast between two sheets of Saran wrap and using your metal mallet, pound the meat until it is approximately 1/4 inch thin. Set aside
Dressing
In a separate bowl mix together mustard, lemon juice, erythritol,Italian spice, red pepper flakes, salt and pepper.
Using a baster, baste each chicken breast with the dressing.
Spread just over a tablespoon of pesto on each breast.
Take a handful of spinach, lay on top.
Take a slice of cheese and lay on top of spinach.
Fold the breast in half and place in oven ware dish.
If you have left over pesto, spread on top of the chicken.
Preheat oven 350 F
Bake for 45 to 50 minutes
Serving: 5
Yield: 6.2 net carbs

Stay healthy and live well
Gayle