Low Carb Malibu Chicken

Well, here comes another great chicken recipe. I know I have been putting several chicken recipes on my site,
but I find that chicken is one of our main meats so here goes with this Low Carb Malibu Chicken. It is delish!
We were at a Sizzler Restaurant and I saw on the menu they had a Double Malibu Chicken.
Well I know I can duplicate this Malibu Chicken, so I thought I would share it with you. It is such an easy meal to put together. The great mustard dip just finishes off the great flavor.
So lets get started and I will show you how to make it!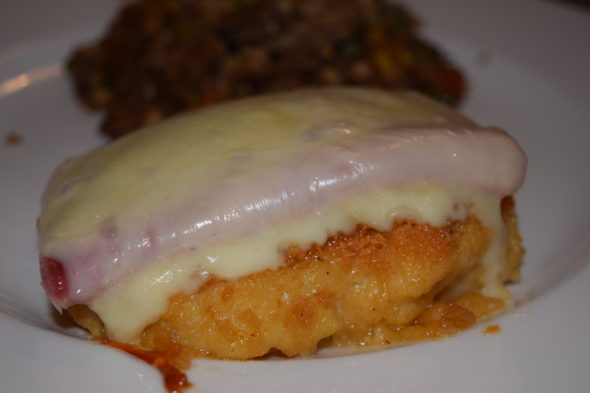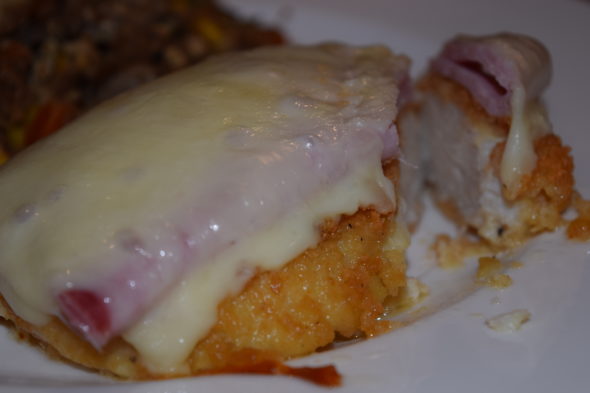 4 chicken breasts (no skin)
Dipping Sauce
1/2 cup mayonnaise
3 Tablespoons Dijon Mustard
2 Tablespoon erythritol
Coating
3/4 cup crushed pork rinds
3/4 cup fine Parmesan Cheese
1 teaspoon garlic powder
salt and pepper to taste
Topping
8 thin slices of deli ham
4 slices of Moneray Jack Cheese ( Swiss cheese would be good also)
Preheat oven 350 F
Pat dry chicken with paper towel, set aside.
In a bowl mix pork rinds, cheese, garlic, salt and pepper.
Place the pork rind mixture on a plate
Prepare Dipping Sauce

Mix mayonnaise, mustard, erythritol together. Take half the dip and place on a plate.
Set the remaining dip aside.
Dip the chicken on both sides with the mustard dip
Make an assembly line: plate of chicken, plate of mayo mixture, plate of crumb topping and a 9 x 13 ovenware dish.
Take your chicken and dip both sides with mayo mixture
Place the dipped chicken in the crumb mixture and coat both sides.
Place in bake ware and pour left over crumbs on top.
Bake on middle rack in oven for 35 to 40 minutes.
Remove from oven , take 2 slices of thin ham, lay on top of each piece of chicken.
Place a slice of cheese on all chicken pieces.
Return to middle rack in oven and let the cheese melt. Approxiametly 10 minutes.
Remove and serve.
Servings: 4
Yield: 4 net carb

Stay healthy and live well!
Gayle